Meet the Team
WE'RE HERE TO SERVE!
Luca Basetto
Restaurant Manager
Meet Luca – He is the General Manager at Mavis's Kitchen, and has been for 5 wildly amazing years. Married to the beautiful Giorgia, the Cafe manager of our other venture – The Tweed Gallery Cafe.
Our dynamic duo hail from Venice, Italy. and don't hold back in sharing their Italian (Venetian actually) sense of hospitality. It's pure loud and joyful humour with Luca, with a natural passion for products and produce that I dare say was in-grained in him growing up at the knees of a Venetian restaurateur mother.
He's the ultimate Prosecco enthusiast, and whether hosting the event of your life time or a peaceful lunch, Luca knows how to effortlessly make it all happen.
Georgia Condon
Events/Administration
Meet the Lovely and Dynamic Georgia – Events, accommodation and reservations specialist
Georgia is is participating in an events and administration trainee-ship with us a Mavis's Kitchen, Georgia has a keen eye for detail & is mostly found behind the scenes making sure all of the details that go into an Event happen on cue,  as soon as she's required for hands on action she's a smiling and capable member of our floor team contributing to a smooth service for restaurant and events.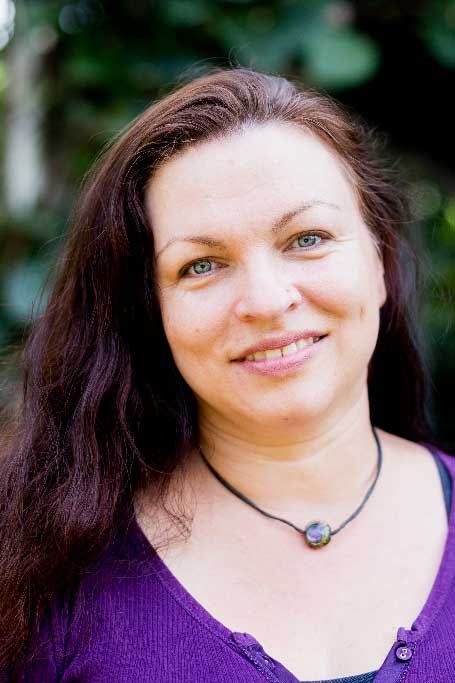 Jackie Hopkinson
Horticulturist
If you have ever wondered how we keep our garden so lush and full of life, then meet the face behind all of the love and care. Jacki our wonderful horticulturist who nourishes our award winning garden, and brings it from the kitchen to the plate. Our garden has grown and flourished in the 3 years Jacki has been with us.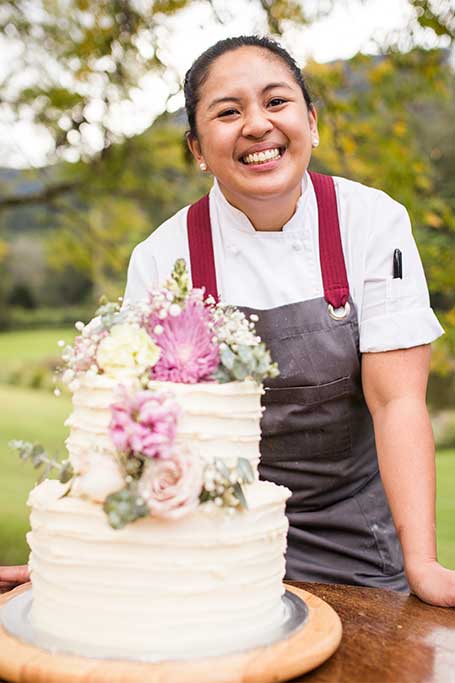 Marian Abeleda
Pastry Chef
As you might have already guessed meet, Marian our beloved pastry Chef. She can master cakes at any size and the taste makes you want more! She's worked in Singapore, Dubai and the USA, and we're lucky enough to have her here as part of the Mavis Team!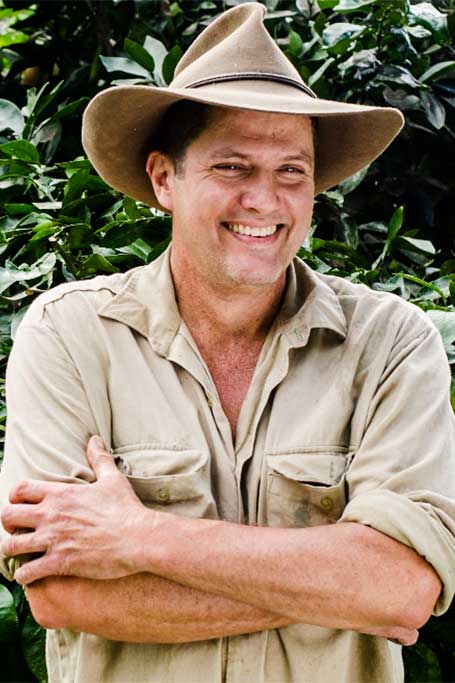 James Carol
Grounds Keeper
When arriving at Mavis's first Impressions are likely to be some where along the lines of  'WOW – what breathtaking surroundings"
Well, yes we are situated in a stunning natural region, but at Mavis's kitchen It's our behind the scenes guy James who gives nature a little helping hand.
Working alongside Jackie and Ralph, James is our on-site grounds keeper. He's the one you night see whizzing past on the tractor or mower.
A local lad with a gorgeous young family. It's great having him on our team.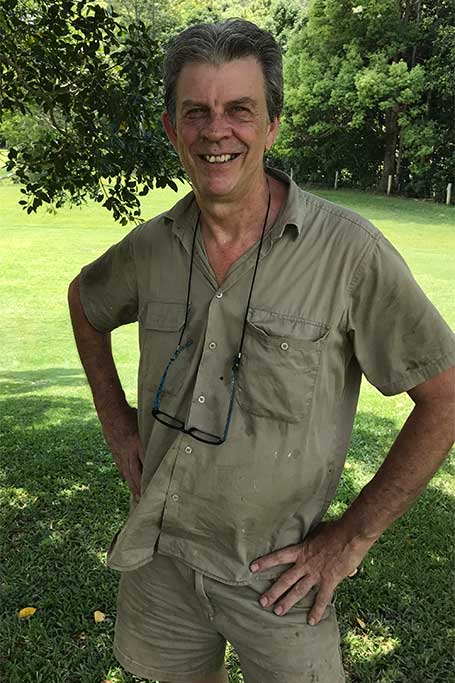 Ralph Golding
Magic man
Meet Ralph, Ralph has been with Mavis's Kitchen for over 10 years.
He's that person we all wish for in life, when we need something created, fixed and REVOLUTIONISED! Ralph is on to it.
Running a restaurant inside an Iconic Queenslander comes with some careful TLC and up keep, this, the grounds and our boutique cabins are all kept in top working order with thanks to Ralph, he even built our spectacular 'LOVE' sign.
Pepe Garcia
Head Chef
Eric Garcia 'known to all as Pepe' hails from Barcelona where he honed his craft and cuisine.
He brings to an Australian Kitchen his European Flavours & techniques and a refreshing can-do approach to running a busy service with a full dining room. Working closely together with our Charlie we think you will really enjoy the magic that happens when these two bring their experience and influence to our seasonal menus and specails.
Kristal Smith
Sales/Marketing
Kristal – Sales and Marketing Marketing
Kristal's history in travel sales plus having had her own start-up hospitality business inspired by her travels, means Kristal is in her element representing this destination Restaurant and accomodation.
having a keen interest in digital marketing alongside building good relationships It's Kristal's Job to keep you 'in the know' about what is going on at Mavis's. Make sure you're subscribed to the eNewsletter, following our Instagram and facebook accounts to stay intouch with the exciting calendar of special events Kristal is putting together for 2017