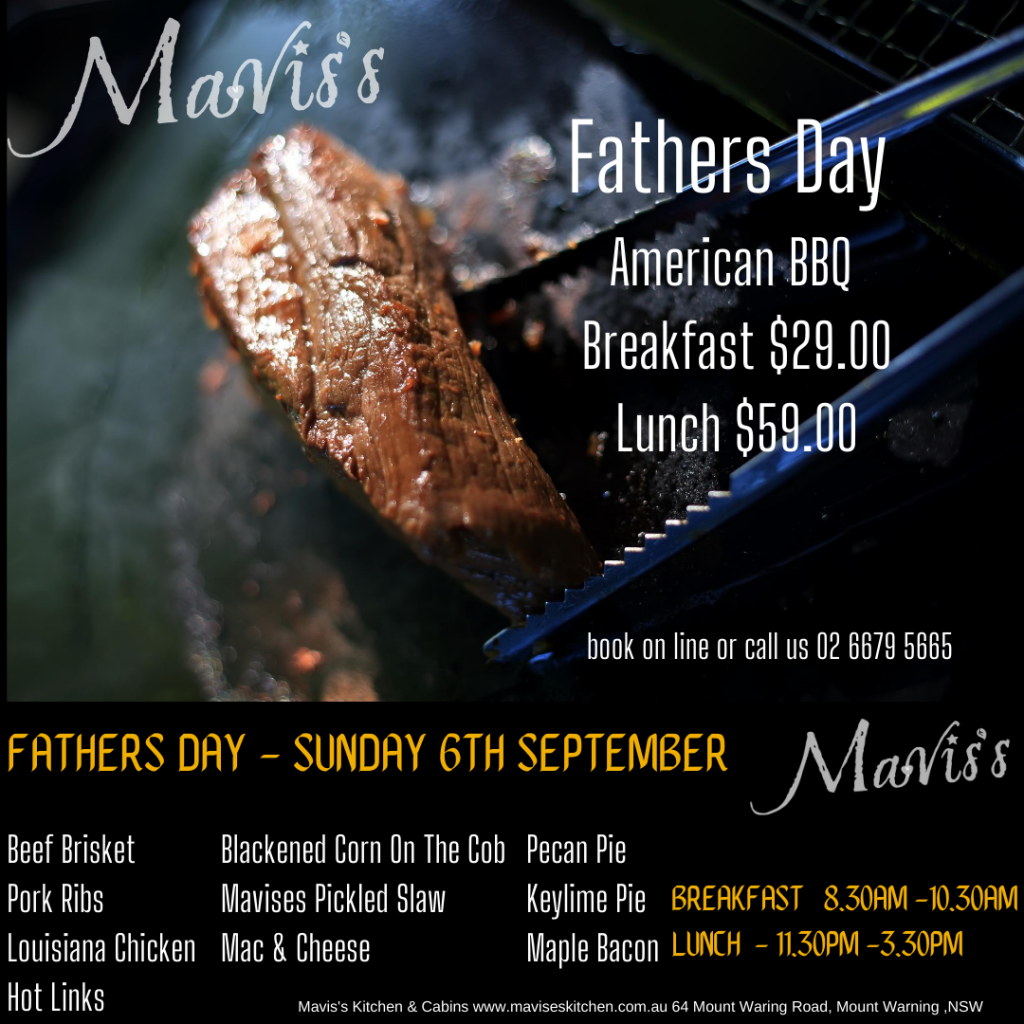 ​Treat Dad to a BBQ he won't have to cook, BBQ Breakfast with a beer or lunch & whisky. Play games with the kids on the beautiful grounds.
Breakfast or lunch fire cooked feast, Australian made Whisky, Beer , Music and kids activities.
You can dine in or order picnic style and enjoy the outdoor activities
Mavis's kitchen is well known for its amazing variety of events. Chef Clive is our head chef and also the owner of Wholly Smoke catering. Specialising in smoked meats and the art of low & slow. Join us for the American Style BBQ , music, fire cooked meats fine Australian Whisky's and kids activities . We will definitely have a vegetarian option also !
LUNCH SHARED FEAST– Suckling Pig ,Louisana Chicken , Pork Ribs , Mac & Cheese , Hot Links , Slow Cooked Brisket , Blackened corn, Mavis's Pickled Slaw
DESSERT – Pecan Pie, Keylime Pie, Side of Maple Bacon
BREAKFAST – Brisket , Eggs , Bacon Pork Ribs ,locally made sausages , warm crusty breads , beer or coffee
KIDS MENU AVAIABLE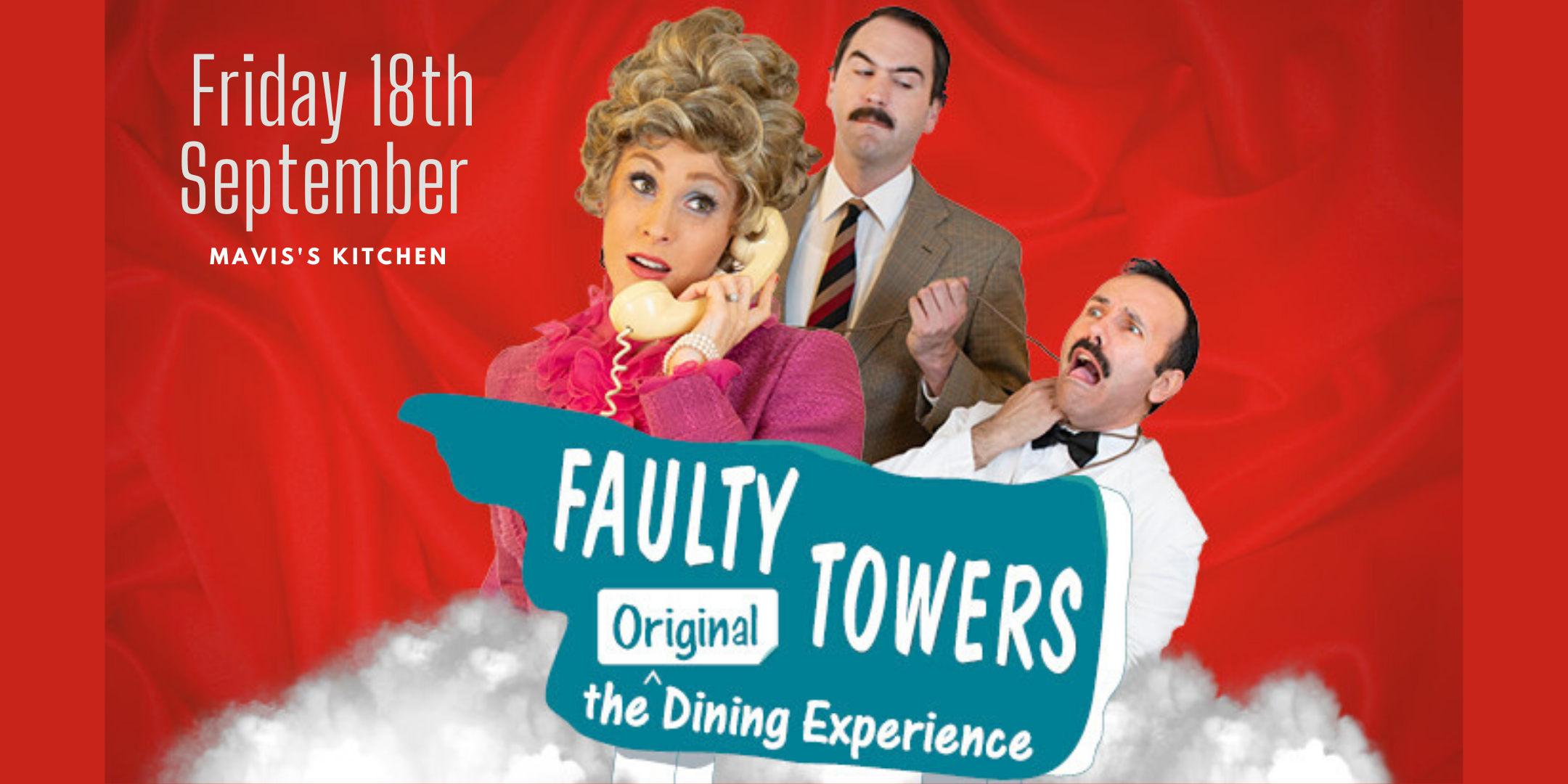 BOOK HERE  Mavis' Kitchen and Interactive Theatre International presents:  Faulty Towers The Dining Experience-
Officially the world's longest-running and most successful tribute to the BBC's famous sitcom, this Australian original has made its international mark as an 'unforgettable night out' (The West Australian).
Selling out at shows all over the world–including Sydney Opera House and London's West End it's now coming to Mavis' Kitchen September 2020.
But be warned: tickets will sell out here too, so early booking is essential! Basil, Manuel, and Sybil are in town–and they're bringing a healthy dose of mayhem to your door. Fully immersive, highly interactive and completely original, this is the top-flight show where anything can happen and usually does –and with 70% of the show improvised, it's never the same twice. With two hours of comedy, three courses of food & beverages, and five-star reviews, expect chaos, laughs, and a brilliant night out.-
'Seriously funny' The Advertiser, Adelaide Fringe-
'Nothing Faulty about it !' Limelight Magazine, Sydney Opera House
Now performed in around 20 countries a year by 11 teams of actors, Faulty Towers The Dining Experience was born in Brisbane in 1997. Its 2019 schedule includes a wealth of highlights such as Fringe Festivals in Adelaide, Melbourne and Edinburgh; tours across entire continents like Europe, Scandinavia, Asia and Australia; and an ongoing residency in London's West End. With over 21 years of continuous critical and audience acclaim and close to a million seats sold around the world, it's clear that this is the most successful interactive comedy show of its kind.
EXPERIENCE THE WORLD'S ♯1 EXPERIENCE!
Venue: Mavis' Kitchen 64 Mount Warning Road Mount Warning , NSW 2484 Dates:
Friday 18th September
Times: Doors open 6:00pm.  Show starts 6:30pm.
Tickets: $110.00pp (includes booking fee) –all tickets include a 3-course meal all beverages and 2-hour interactive show. Enquiries: 02 6679 5664 | sales@maviseskitchen.com.au
watch on youtube