Mavis's Kitchen & Wollumbin Family Support Inc invite you to join us for a fundraising luncheon. Featuring the Trombone Kellie Gang
WHO ARE WE SUPPORTING?
WOLLUMBIN FAMILY SUPPORT INC. WFS is devoted to the prevention of, and recovery from domestic violence within the Northern Rivers communities. They provide evidence-based services that respect diversity and promote safe and respectful relationships, families, and therefore communities.
WFS presently run two programs: Love Bites, which is a Respectful Relationships Education Program for young people aged between 15-17, and a
Finding Me Program which is a 12 -week recovery-based program supporting women to recover from domestic violence, and is focused on increasing their self-determination. Read More
THE MUSIC – TROMBONE KELLIE GANG Trombone Kellie Gang will have the audience clapping and dancing in their chairs and on the floor like they are in Bourbon St! With their mighty fine exhibition of jazz swing, jump blues, gospel & soul, rockabilly & rock & roll TK Gang
Trombone Kellie with her powerful vocals, trombone & guitar performance, Scrubby Pete will wow the crowd with his guitar. The engine room is simply brilliant with Toby Baron on drums, and Justin Pfeiffer on double bass. The TK Gang has become a big hit at Jazz & Blues Clubs across the Northern Rivers to the Sunshine Coast.
THE FOOD – MAVIS'S KITCHEN Mavis's Kitchen will do what they are famous for ! 3 – course luncheon with produce grown organically and locally sourced.
But a meal at Mavis's is more than that, it's about taking the time to savour the flavours, to relax into the breathtaking beauty that surrounds you and to enjoy what we call those magical Mavis's moments.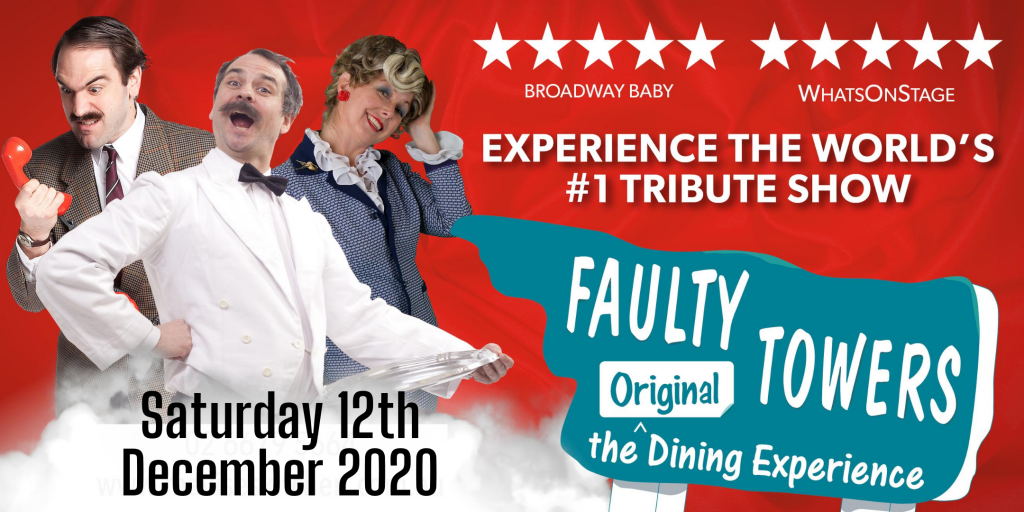 BOOK HERE  The date has been changed due to covid-19. We will now aim for Christmas party.  Mavis' Kitchen and Interactive Theatre International presents:  Faulty Towers The Dining Experience-
Officially the world's longest-running and most successful tribute to the BBC's famous sitcom, this Australian original has made its international mark as an 'unforgettable night out' (The West Australian).
Selling out at shows all over the world–including Sydney Opera House and London's West End it's now coming to Mavis' Kitchen December 2020.
But be warned: tickets will sell out here too, so early booking is essential! Basil, Manuel, and Sybil are in town–and they're bringing a healthy dose of mayhem to your door. Fully immersive, highly interactive and completely original, this is the top-flight show where anything can happen and usually does –and with 70% of the show improvised, it's never the same twice. With two hours of comedy, three courses of food & beverages, and five-star reviews, expect chaos, laughs, and a brilliant night out.-
'Seriously funny' The Advertiser, Adelaide Fringe-
'Nothing Faulty about it !' Limelight Magazine, Sydney Opera House
Now performed in around 20 countries a year by 11 teams of actors, Faulty Towers The Dining Experience was born in Brisbane in 1997. Its 2019 schedule includes a wealth of highlights such as Fringe Festivals in Adelaide, Melbourne and Edinburgh; tours across entire continents like Europe, Scandinavia, Asia and Australia; and an ongoing residency in London's West End. With over 21 years of continuous critical and audience acclaim and close to a million seats sold around the world, it's clear that this is the most successful interactive comedy show of its kind.
EXPERIENCE THE WORLD'S ♯1 EXPERIENCE!
Venue: Mavis' Kitchen 64 Mount Warning Road Mount Warning , NSW 2484 Dates:
Saturday 12th December 2020
Times: Doors open 6:00pm.  Show starts 6:30pm.
Tickets: $110.00pp (includes booking fee) –all tickets include a 3-course meal all beverages and 2-hour interactive show. Enquiries: 02 6679 5664 | sales@maviseskitchen.com.au
watch on youtube