Mavis's Kitchen Restaurant
HINTERLAND COUNTRY DINING
Your meal at Mavis's Kitchen reflects what's important to us: food grown organically (in our own garden where possible), sourced locally, picked seasonally and prepared and served lovingly.
But a meal at Mavis's is more than that.
It's about taking the time to savour the flavours, to relax into the breathtaking beauty that surrounds you and to enjoy what we call those magical Mavis's moments.
If you're happy to sit downstairs under the shade of a tree or our verandah, you're more than welcome to bring your well-behaved dog.
Mavis's has really weaved their magic – we had the honor of accepting an award from the 2016 'Business Excellence Awards' for 'Excellence in Dining.' It's all about our customers and our amazing staff – we love making you all happy.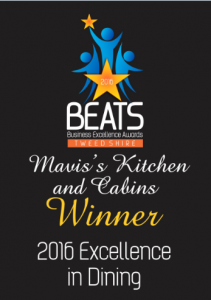 We'd love you to join us for …
BREAKFAST
Wednesdays to Sundays
from 9 – 11:30am.
LUNCH
Wednesday to Sundays
from 11.30am.
DINNER
Saturdays (a la carte) from 5:30pm.
Friday (tapas) from 5:30pm.
COFFEE & CAKE
Wednesday to Sundays
9 – 11am and from 2pm.
Please note the restaurant is closed on Mondays and Tuesdays.